Birthday Parties
Karate or Nerf War Birthday Parties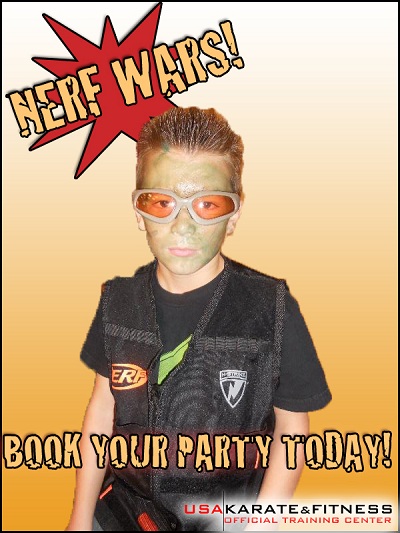 NERF WAR BIRTHDAY PARTIES - $399 up to 15 kids 1 1/2 includes pizza & drink
KARATE PARTIES- $399 includes pizza & drink child wears black belt for the day, cuts cake with Samurai sword, up to 15 kids, options for board breaking, karate belts and karate headbands.
ALL NEW NINJA TURTLE THEMED PARTY - $459 up to 15 kids includes 1 Pepperoni pizza pie and drinks.
NINJA TURTLE THEMED PARTY - Train like your favorite turtle. 1 Pepperoni pizza pie and drinks. Up to 15 kids. Learn techniques of your favorite turtle, Bo staff, sword, nunchucks and sais, special kicks, games and fun! Bring your own cake or cupcakes
Read what some of our parents had to say:
"WOW! What a well-organized party. It was FUN, FUN, FUN! My son loved it, and his friends can't stop talking and laughing about it."
- Sarah Morriston
"I highly recommend this party to everyone. We were looking for something different, and we found it at USA Karate and Fitness! Every party detail went so smoothly. The instructors were very helpful, plus I liked the fact that the kids got to safely burn off some extra steam. I haven't laughed so much in years. My son and his friends had an awesome time. Your kids will too!"
- Richard, Clarke
Ready to HAVE A BLAST WITH ALL YOUR FRIENDS?
Call us, RIGHT NOW, to book your party, or to get more details.
Benefits of birthday parties
Up to 15 kids can participate
Nerf guns are provided
1 1/2 hours of non-stop action!
Includes pizza and drinks
$399 up to 15 kids 1 1/2 includes pizza & drink
Our birthday parties Classes Are Located In
Avenel
Clark
Hamilton
Jackson
Lebanon
Springfield